What Our Clients Say About NZ Louvres
Scroll down to read NZ Louvres testimonials, from our valued clients.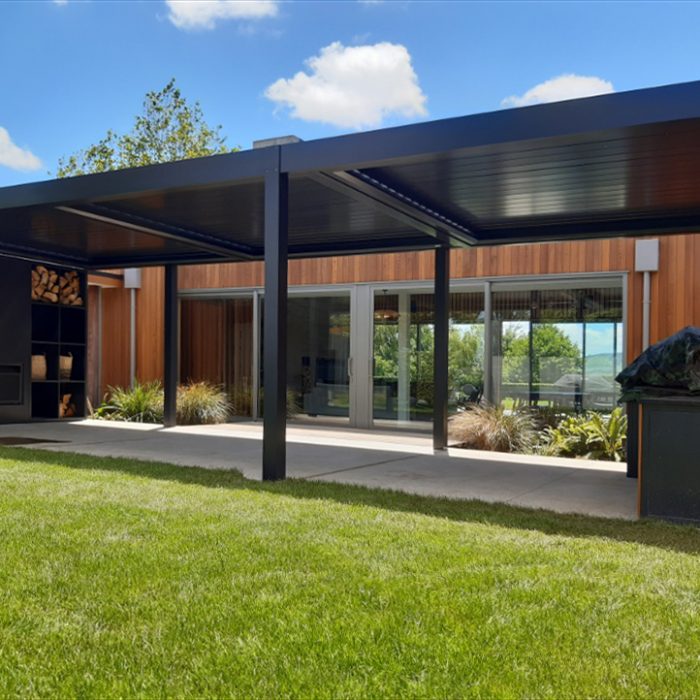 The louvres are now in and they look fantastic.
I wanted to tell you how hugely impressed we are with Asosi and his team. They were exceptional, the best we have seen and we have recently built this place so have seen a lot of tradies here. Excellent communication with us and the other trades, exceptionally tidy and they have done a magic job.
The concrete cuts are barely visible and are so much better than we ever would have thought. We are so glad we chose you guys out of quite frankly lots of competition! Your initial sales pitch set the tone for a professional and service-orientated experience and this has been the case right through the process with Dewan and then Asosi and the team. Excellence from start to finish!
Kia Ora Steffan,
I wish to record my thanks to you personally & to your dedicated team both in the office & on-site. All who have visited our home in Cambridge have been unanimous in their initial reaction response, WOW!

I have sung your praises widely. I thank you for your personal & professional work ethic, integrity & the consistency demonstrated throughout the project. Please pass on my very best wishes & thanks to your team, who contributed to such a successful & satisfying outcome.
I just wanted to say how impressed Wayne and I were with the guys we had on our job. They were polite, professional, and went the extra mile. Not only did they work hard, but they also left the outside area immaculate. Not many tradesmen do that these days.
Hi to all of the team at NZ Louvres

We Love our Louvres and Blinds. Our outdoor area is now so useful!
Before it was too hot on a summer's day.
Our carpet and dining suite are happier now too without the harsh sun on them all the time. Very happy with the clean-up the boys did on their last visit, it's the small things that make the difference. Your guys swept and tidied up nicely. Thank you so much for a great job and awesome product.
Everything has worked out brilliantly thanks to your very talented guys.
Most Impressed with the result
Andrew Bigham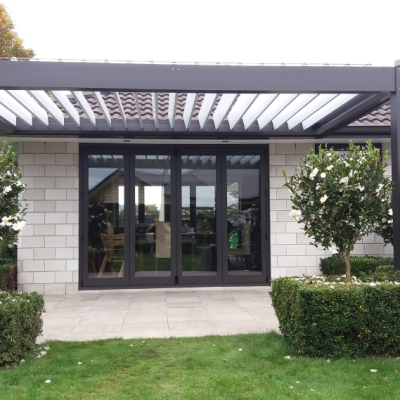 Our experience with NZ Louvres from when we made the decision to go ahead, right through to the installation has been wonderful.
The louvres look absolutely brilliant and we are very impressed, not only with the outstanding quality of the product, but the outstanding quality of workmanship and professionalism of your team.
I am very impressed with the finished product! The guys were so professional and carried out the job with care and attention to detail. I am grateful and would not hesitate to do business with you and your company again in the near future.
We are really happy with our new louvres. They look amazing and we are absolutely thrilled with the final result! Every aspect of the service has been fantastic, from the initial enquiry through to the finished product. You have a great team of people, who are a pleasure to deal with and intent on making the whole customer experience very easy!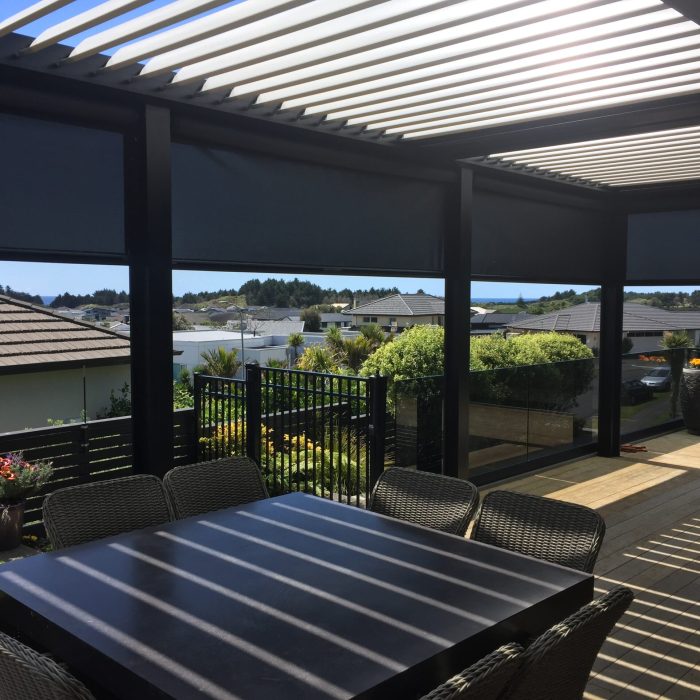 This is a quick Note to express our entire satisfaction during our construction/installation of NZ Louvres automated roof system.

The team at NZ Louvres, Cambridge, are to be congratulated on their service & accommodating to any queries we had.

Their construction knowledge, professionalism & attention to detail to detail was first class. We would recommend their installation skills without question. Thanks for the great job.
Hi Guys,
just wanted to say how absolutely thrilled we are with our Louvres system, it looks amazing and the rain sensor is brilliant for keeping the area dry.

Thank you for getting the job done so quickly and we want to compliment you on your workers. They were a delight to have on the property, polite efficient, tidy and lovely to hear their lively chatter and laughter. Obviously, they have a great work ethic and relationships.

Many thanks,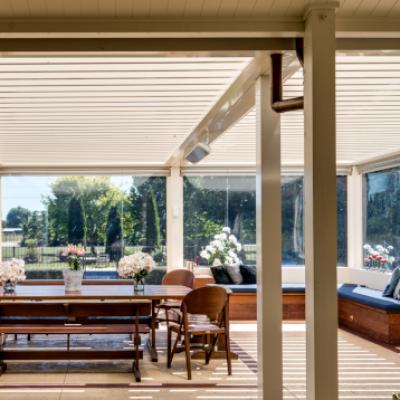 Thank you NZ Louvres for the wonderful installation at our property in St Heliers Auckland. The installers were professional, efficient and kept us in the loop during the whole process. We are thrilled with the space that has been created for our family and would recommend NZ Louvres to anyone contemplating installing a louvre system.
Many thanks for your fantastic service. We can't fault the professionalism of the man who installed the product & his constant up-to-date communication. He was great & we felt very well looked after. We will continue to recommend your company to others.
We could not be happier with the outcome that has been made to our outdoor living. The benefits are twofold!
We are able to throw open the doors to the deck and have effectively gained another living area that has had plenty of use.

Thank you very much.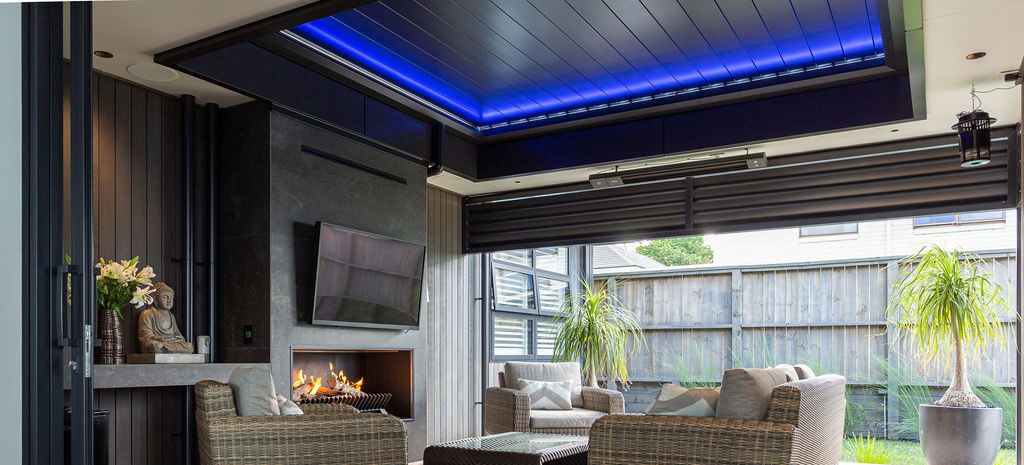 Looks Amazing and exceeded our expectations. You all have certainly delivered an awesome product. Very very happy! Thanks to all of the team for giving us a beautiful outdoor area.
Thanks to the guys who did a great job last week installing our louvres.
They did a fantastic job & treated our space with so much care & respect.
We are absolutely thrilled with our louvre, we now have another room outside and I'm sure its added value to our home. These guys are awesome highly recommend.
This is our second summer with it now and we love it. Lots of gatherings around the fire and the louvres allow us to use it in any weather and provides shade and shelter. It definitely extends the use of our outdoor area and is one of our favourite areas of our home. Thanks for providing a wonderful product and service.
Sarah
Our customers love their louvre solutions and always comment on the great experience they have with our installers. Get a free estimate today and experience our amazing products and awesome service for yourself.